Tabboulleh is also known as Lebanese salad and is a classical Middle Eastern dish. Customarily it is made with bulgur and diced vegetables: tomatoes, cucumbers, onion, garlic and pepper. This salad is spiced with salt, pepper, lemon juice and chopped parsley and peppermint.

Today I would like to share with you my recipe for tabbouleh. I used quinoa instead of bulgur. I also added avocado and a bit of chili pepper. Lebanese salad is an excellent dish for a hot day. It is great just after preparing and on the next day you can take it on a trip or for lunch at work.

Ingredients (for 2 people)
100g of quinoa
1 avocado
1 red pepper
2 tomatoes
3 small fresh cucumbers
1 shallot
1 clove of garlic
half a chili pepper
2-3 tablespoons of lemon juice
2 tablespoons of chopped chives, peppermint, parsley and basil
salt and pepper

Boil the quinoa in salty water.
Peel the tomatoes and cucumbers and remove the cores from both of them. Peel the avocado and remove the stone. Dice the tomatoes, pepper, avocado and cucumbers. Add the chopped shallots, chili pepper, crushed garlic and lemon juice. Spice them up with salt and pepper and mix them in. Add the boiled quinoa and mix again.

Enjoy your meal!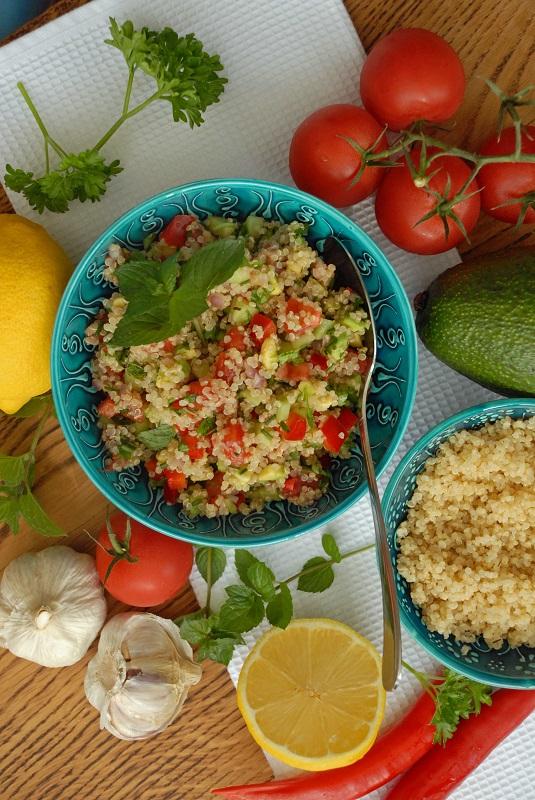 Try also:
Dinner salad with smoked salmon and green beans
Autumn salad with pumpkin, quinoa and pomegranate
Healthy salad with quinoa