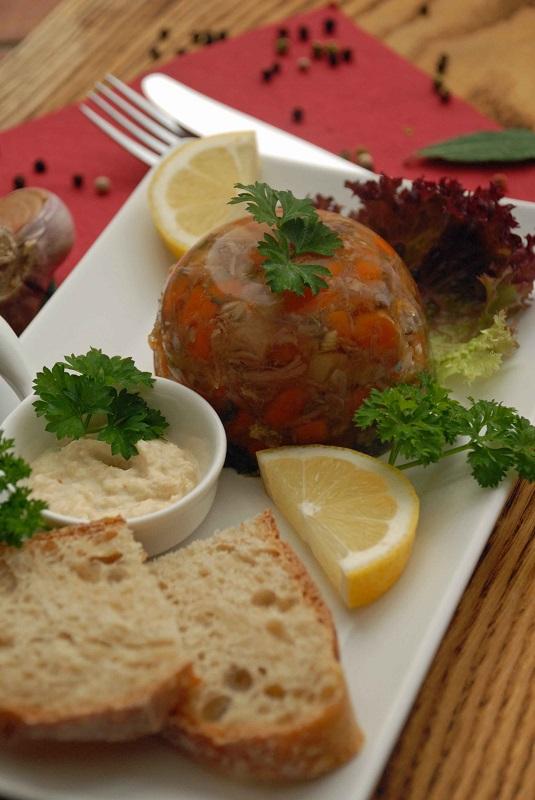 As well as the other excellent dishes which we prepare for Christmas Eve supper, I cannot imagine the Christmas table without meat in jelly. Every year either my daddy or I prepare pork foot jelly. I like a lot of meat in the jelly. I always boil pork foot to make a strong jelly and pork knee to have a lot of meat. I spice it traditionally with a lot of garlic and marjoram. I serve it with lemon juice or grated horseradish and fresh bread. Yummy!

Ingredients:
1 pork foot
2 small pork knees
1kg of carrot
0.5kg of parsley root
a piece of celery root
a piece of leek
half an onion
2 tablespoons of marjoram
2-3 cloves of garlic
3 peppers
2 allspices
1 bay leaves
salt and pepper

Put some baking paper in a dry pan. Put the sliced onion into it and fry until the onion is dark brown. Put the pork foot and pork knee into a pot. Add water and boil them. Pour away the water, rinse the meat and add water again. Add the peeled carrots, parsley roots, celery root, leek, pepper, bay leaves and allspices. Spice it up with salt and boil until the meat is completely soft. Put the meat, vegetables and spices onto a plate (don't pour away the residue!).
Remove the leek, celery root, onion, allspices, pepper, and bay leaves. Cube the carrot and parsley roots. Remove the bones and skin from the pork foot and pork knee and dice the meat. Put the carrot, parsley root and meat into the residue and boil it. Turn off the heat. Add the marjoram and crushed garlic. Spice it up with salt and pepper and pour it into some bowls. When they have cooled down leave them in the fridge to set. Serve with lemon juice or grated horseradish and bread.

Enjoy your meal!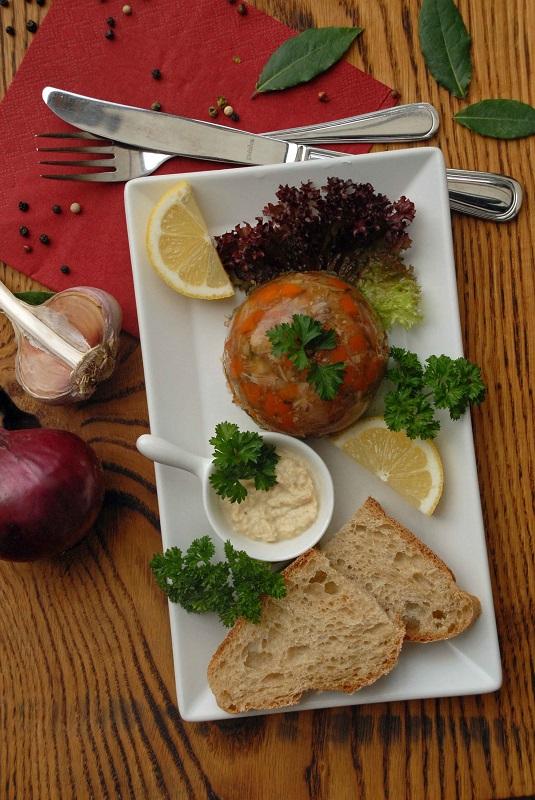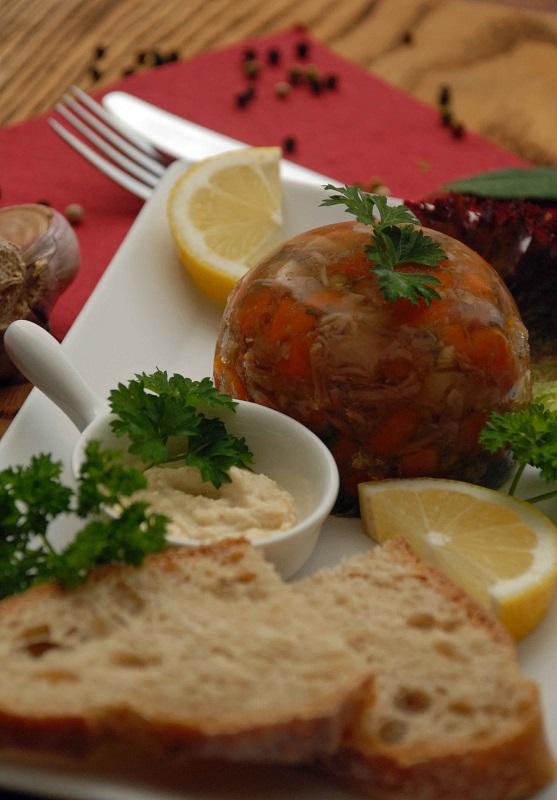 Try also:
My fisherman's burger
Quick pasties with sauerkraut
Fish pâté