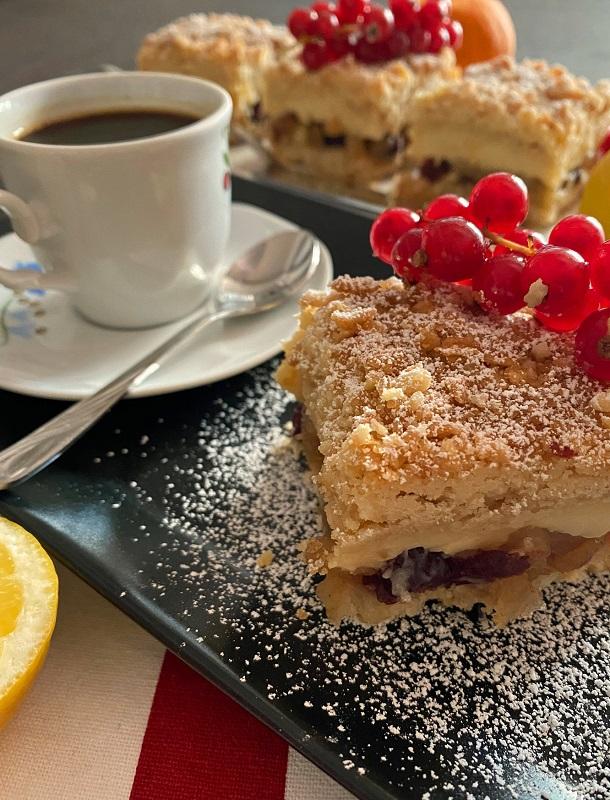 I don't have any inspiration lately. It takes a lot of time to create something new and surprising. We all have bad days, so I will sit in the corner quietly and wait till it is gone. It has to go some time. And for now I offer something from my home classics. Cake with pudding and fruit. This time I chose apples, pineapple and cranberries. The cake was subtle and crunchy, and the filling was juicy and perfectly contrasted with the sweetness of the cake. So it doesn't matter if you have an afflatus to make something new or you have a crisis, you can always reach for the classics. It paid off for me.

Ingredients:
dough
350g of flour
200g of butter
2 tablespoons of peanut butter
100g of sugar
1 teaspoon of baking powder
filling
2 apples
1 tin of pineapple
a fistful of dried cranberries
2 tablespoons of lemon juice
1 vanilla budino
2 tablespoons of sugar
500ml of milk

Chop the butter, add the rest of the ingredients and knead quickly into a smooth dough. Cut it into halves and cover with some plastic wraps. Leave in the refrigerator for one hour.
Cook the budino with the milk and sugar. Cover the surface of the budino with some plastic wrap to avoid skin on the budino. Leave to cool down. Dice the apples and pineapples. Put them into a pan, add the dried cranberries, a couple of tablespoons of pineapple juice and lemon juice. Boil until the juice has evaporated and the fruit is soft.
Heat the oven up to 180C. Cover a baking tin (20-cm) with some baking paper. Grate one part of the dough into it. Put the fruit on the dough. Put the budino on the fruit and grate the second part of the dough on the top. Bake for 45-50 minutes. Sprinkle with some caster sugar before serving.
Enjoy your meal!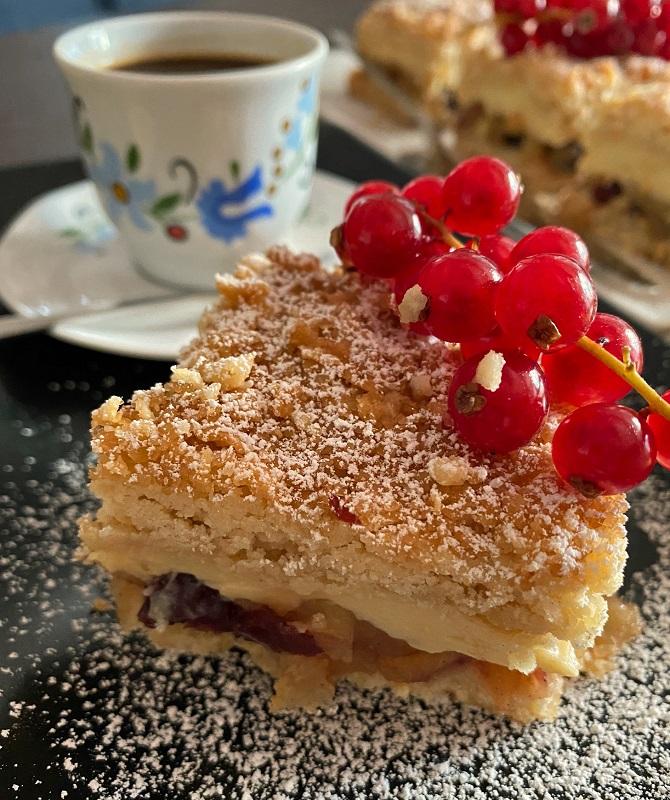 Try also:
Swift vegan-brownie with raspberries and blueberries
Coconut cake with currants
Strawberry cake with blancmange