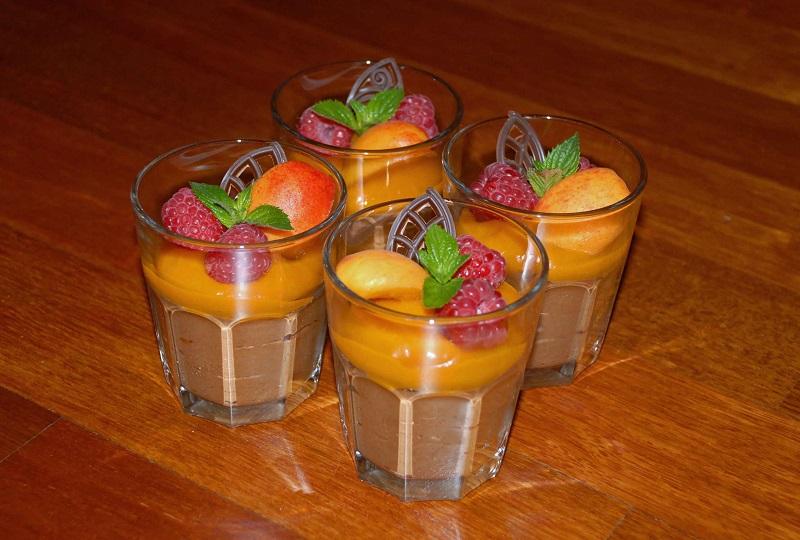 The first part of the holiday has gone. My daughter has come back from the sports camp. Every year I try to prepare something special for her. This year I prepared a feather-light chocolate whip. There wouldn't be anything special in this dessert if it wasn't for its main ingredient. It was aquafaba - i.e. the liquid which is left after straining chickpeas from a tin. Up to now I have poured it away. From today I will never make this mistake. Joël Roessel, a French chef, was the discoverer of aquafaba. He wanted an alternative to eggs when preparing meringues.

Protein and starch are the only ingredients of aquafaba. It doesn't have any other additives. Cold aquafaba can be whisked like an egg white. Next time I will try to prepare some meringues with aquafaba, but now I would like to share with you the recipe for an extremely simple chocolate whip. I served it with the sub acid from an apricot mousse. My children were delighted, and so were we.

Ingredients (for 4 people)
200ml of aquafaba (from one tin of chickpeas)
2 teaspoons of caster sugar
150g of dark chocolate
6 apricots
2 tablespoons of lemon juice
2 tablespoons of brown sugar

Melt the chocolate in a bain-marie and leave it to cool down a little. Whip the aquafaba in a very clean glass bowl. Add the sugar spoon by spoon and whip constantly until the foam is stiff and glossy. Add the chocolate and stir thoroughly but gently. Put the chocolate whip into some small bowls and leave in the fridge for 3-4 hours. Wash the apricots and remove the stones. Put them into a pan with the lemon juice and sugar. Boil until the apricots are soft and the juice has evaporated a bit. Blend the fruit. Leave to cool down. Put the apricots onto the chocolate whip and decorate with some peppermint leaves.

Enjoy your meal!

Try also
You get used to good things very fast
Children in the kitchen – caramel dessert with puffed rice
Chocolate rice pudding with plums