I think that everybody who was raised in difficult times remembers perfectly the taste of kogel-mogel: eggs whisked with sugar to make a light-yellow, almost white, fluffy mixture. For many of us it was a way of dealing with having a sweet tooth. Later, when chocolate sweets were a little bit easier to get, we added a spoon of cocoa and the dessert was completely different. Today nobody could make me eat a raw egg, but for my husband it is still one of the best sweets. Today I prepared a huge portion of luxury kogel-mogel. I put it on some field berries and made a heavenly dessert. I warn those who are watching their figure, because it is a sugar bomb, but it is really hard to resist. Hot, aromatic juicy field berries, sweet and slightly stretchy kogel-mogel with a crunchy shell is an amazing combination. I recommend it for boosting your mood, especially on a nasty winter afternoon. Imagine this: it is dark and cold outside and on the table there is a hot and sweet pleasure with the smell of fruit...

Ingredients (for 4 people)
500g of different forest fruit
4 egg yolks
4 tablespoons of sugar
1 teaspoon of vanilla essence
1 teaspoon of butter

Heat the oven up to 200C.
Smooth some small casserole dishes with butter. Put the fruit into them. Beat the egg yolks with sugar. Add the vanilla essence and mix it in. Put the egg mixture onto the fruit. Bake for 10 minutes until the top of the dessert is slightly brown.

Enjoy your meal!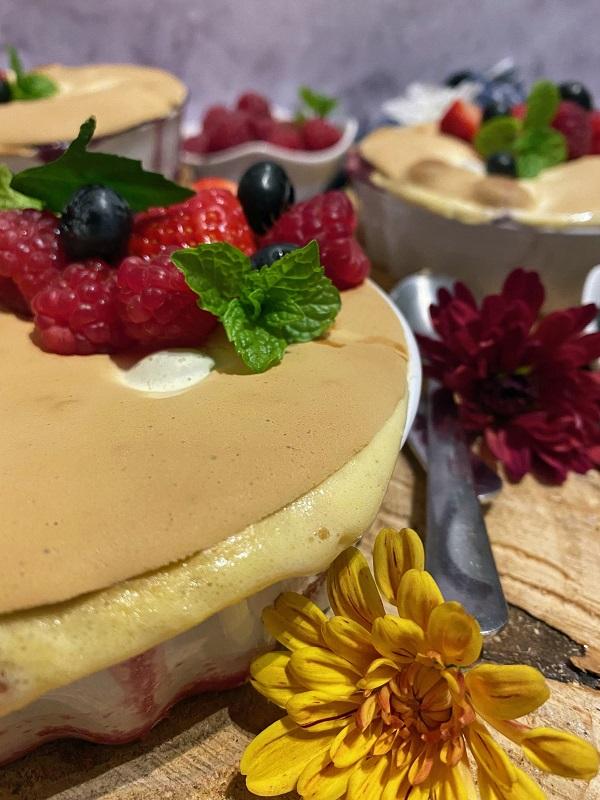 Try also:
Halvah dessert with strawberries
Chocolate dessert with amaretto, raspberries and figs
"Snickers" – amber dessert