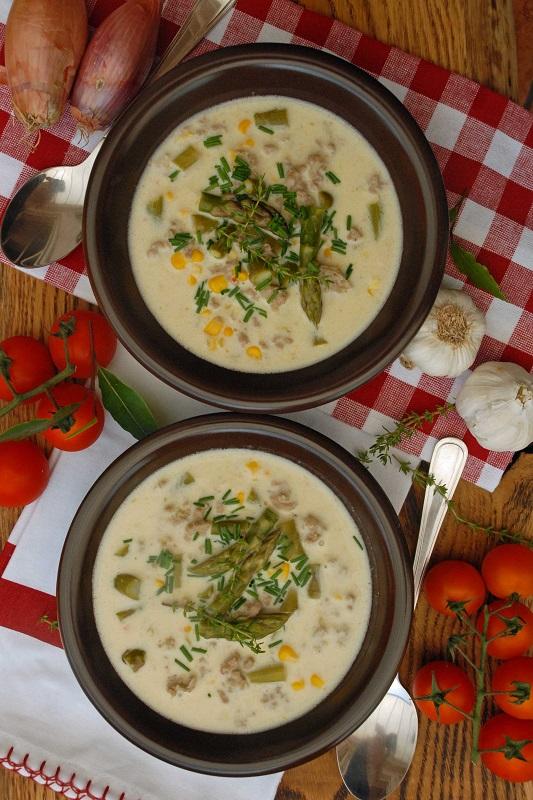 Today's offer is a one-pot dish, satisfying and delicious, which will bring pleasure to the fussiest eaters. I prepare it when I want something warm during a long autumn afternoon or when I am too lazy to make a second dish. After this dish it isn't necessary. It is also perfect on a camping trip. You need only a portable stove, one big pot and of course the ingredients. Less mess means less washing up. And it is nice little change when cooking in makeshift conditions.

Ingredients:
500g of mincemeat
1 leek
3 cheese spreads
1l of vegetable bouillon
1 tin of sweetcorn
1 bunch of asparagus spears
1 small onion
2 cloves of garlic
1 chili pepper
1 tin of coconut milk
1 bay leaf
2 allspices
2 tablespoons of oil
salt and pepper
2 tablespoons of chopped chives

Dice the onion, garlic and chili pepper. Wash the leeks and slice them. Cut the asparagus spears into 1.5-cm pieces. Heat the oil in a pan and fry the onion, garlic and chili pepper in it. Add the leeks and fry for 3-5 minutes (don't brown the vegetables). Add the mincemeat and fry for a while. Pour in the vegetable stock, add the bay leaf and allspices. Boil for 15 minutes. Add the cheese spreads and stir until they are melted and boil for 10 minutes. Add the sweetcorn, asparagus spears and coconut milk. Add salt and pepper. Boil for 5 minutes. Serve with the chopped chives.

Enjoy your meal!

Try also:
Summer vegetable soup with chickpeas
Stuffed cabbage soup – yummy one-pot soup.
Chili con carne soup