Since my daughter stopped eating lunch at school I have had a permanent culinary problem. What should I make for lunch? There are moments when I don't have a clue and my creativity plays hide and seek. Sometimes I ask my children what they want. They always want tomato soup, spaghetti, borsch with ravioli and crepes. All these dishes are very yummy, but in the long run they can get boring. Chili con carne we know as a main course served with rice. Today I needed soup for my lunch, so I prepared chili con carne soup.

Ingredients (for 4 people)
400g of minced beef meat
500ml of tomato passata
500ml of beef bouillon
1 red sweet pepper
1 tin of red beans
1 tin of sweetcorn
1 red onion
2 cloves of garlic
1 chili pepper
1 tablespoon of butter
2 tablespoons of oil
1 teaspoon of sweet paprika
half a teaspoon of cumin
a pinch of curry powder
salt and pepper

Dice the onion, chili pepper and garlic. Melt the butter in a pan and fry the vegetables. Add the sweet paprika, cumin and curry. Fry for a while. Pour in the oil, add the minced meat and fry for 5-7 minutes. Add the bouillon and tomato passata. Boil for 25 minutes. Add the drained red beans, sweetcorn and sliced red pepper. Boil for 10 minutes. Spice it up with salt and pepper. Serve hot with rice or crunchy pieces of toast.

Enjoy your meal!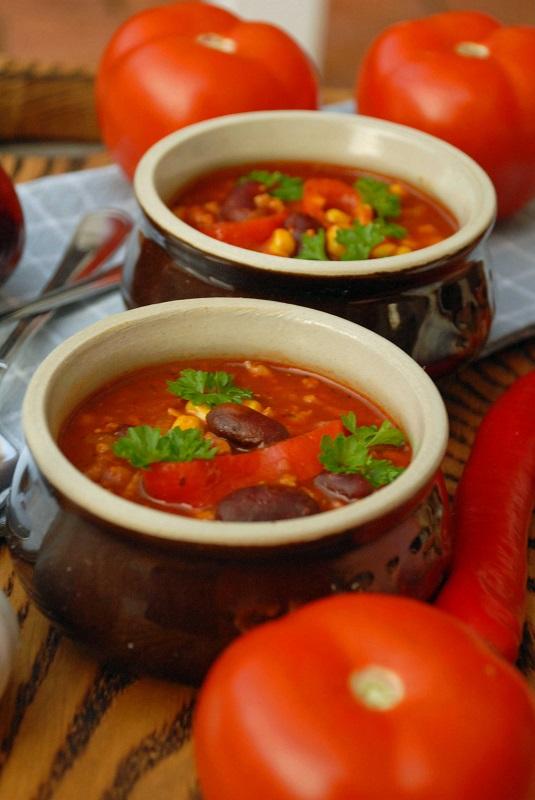 Try also:
Soup for a big appetite – with leek and mincemeat
Stuffed cabbage soup – yummy one-pot soup.
Spicy pumpkin-tomato soup