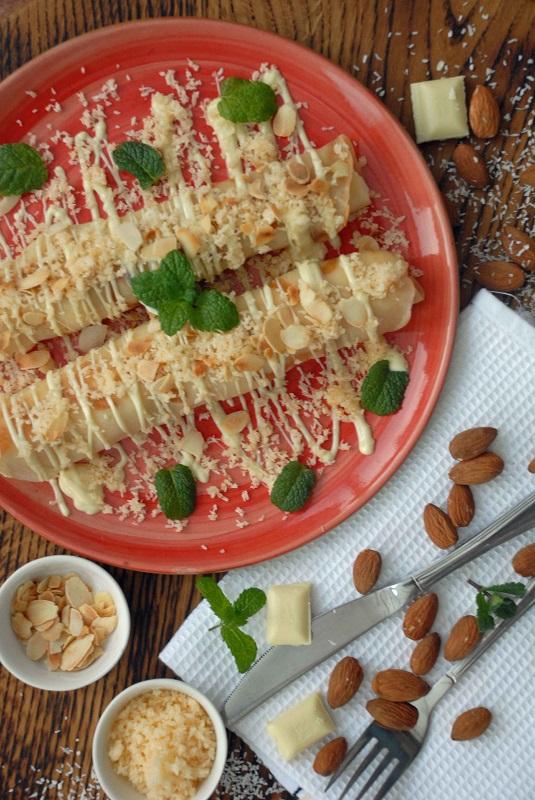 When I was young I could eat a lot of Rafaello pralines. I loved the combination of crunchy cookies, white chocolate, almonds and desiccated coconut. Now I like them too, but I only eat them occasionally. It is not fair that in my youth I could eat a lot of sweets and I still looked thin, but now even thinking about sweets causes me to put on weight. It is awful. Sometimes, adults also need to cheer themselves up by eating something yummy and sweet.

I made plans to have crepes for dinner. I thought also about Rafaello pralines and I decided to combine both pleasures. I made some yummy crepes which were almost like Rafaello pralines. If like me you have a fondness for Rafaello pralines, you really have to try this dish.

Ingredients:
dough for 12 crepes (20-cm pan):
300ml of milk
300ml of sparkling water
100ml of oil
1 egg
8 heaped tablespoons of flour
a pinch of salt
filling:
250g of white cheese
150g of natural yoghurt
3 teaspoons of sugar
1 teaspoon of vanilla sugar
3 tablespoons of chopped almonds
3 tablespoons of desiccated coconut
crumble topping
40g of desiccated coconut
20g of butter
1 tablespoon of caster sugar
additionally:
50g of white chocolate
4 tablespoons of almond flakes

Mix the coconut milk, water, egg, oil and salt together. Add the flour little by little and mix with a mixer to make a smooth and runny dough (if the texture isn't right, add flour or water). Tip a portion of the dough into the pan and spread it by moving the pan around. Fry the dough on one side, then flip it over when there is no more raw dough and fry for a while. Put it on a plate.
Using a fork, make the filling from the cheese, natural yoghurt, sugar, vanilla sugar, chopped almonds and desiccated coconut.
Put the desiccated coconut, sugar and butter into a pan. Fry constantly, stirring on a low heat until the butter is melted. Leave to cool down a bit.
Put the filling onto every crepe and roll it up. Fry them lightly in a pan, sprinkled with the melted white chocolate, crumble topping and roasted almond flakes.

Enjoy your meal!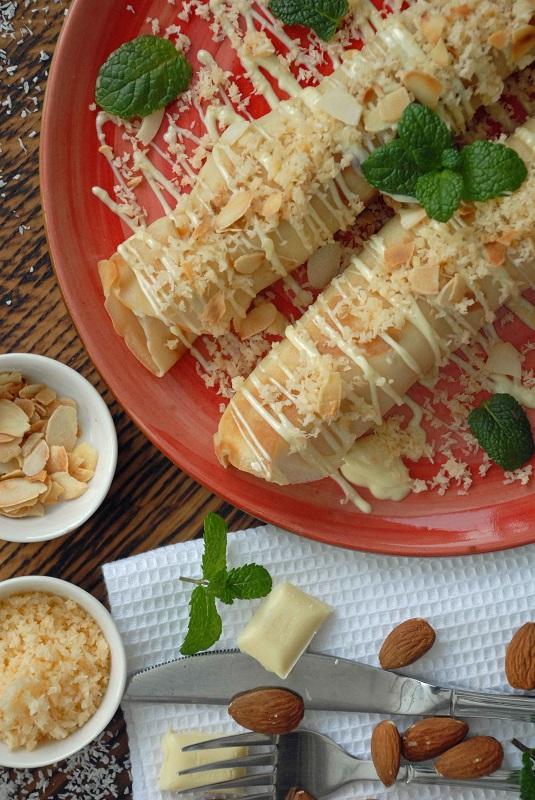 Try also:
Winter crepes
Green spring crepes with smoked trout and goat cheese
Crepe dreams