In my family home, as well as traditional pasta, groats and rice, my mum sometimes prepared dumplings made with a spoon. She served them often with stew or beef cutlet. Recently, I remembered these dumplings when I was looking for inspiration for a quick lunch. I didn't have time to prepare meat, but I served them with onion and fried bacon. My daughter said that it was delicious and asked for another helping. Fortunately, this dish is really quick and it looks and tastes really wonderful.

Ingredients (for two people)
180g of flour
1 egg
a pinch of salt
100ml of water
150g of smoked bacon
half an onion
2 cloves of garlic
chili pepper
a couple of cherry tomatoes
a couple of capers
1 tablespoon of chopped parsley
pepper

Dice the onion, garlic and chili pepper. Put the smoked bacon into a cool pan and heat until it the fat melts. Add the onion, garlic and chili pepper and fry for a while. Add the finely chopped capers and cherry tomatoes. Turn down the heat, cover the pan with a lid and heat until the tomatoes are mushy and soft.
Mix the flour, egg, salt and water to make a smooth, thick dough. Boil some salty water in a big pan. Put the dough into the boiling water with a tablespoon. Boil for 2 minutes. Put the dumplings on the plate. Arrange the bacon and the vegetables on the dumplings. Sprinkle with the chopped parsley and pepper before serving.

Enjoy your meal!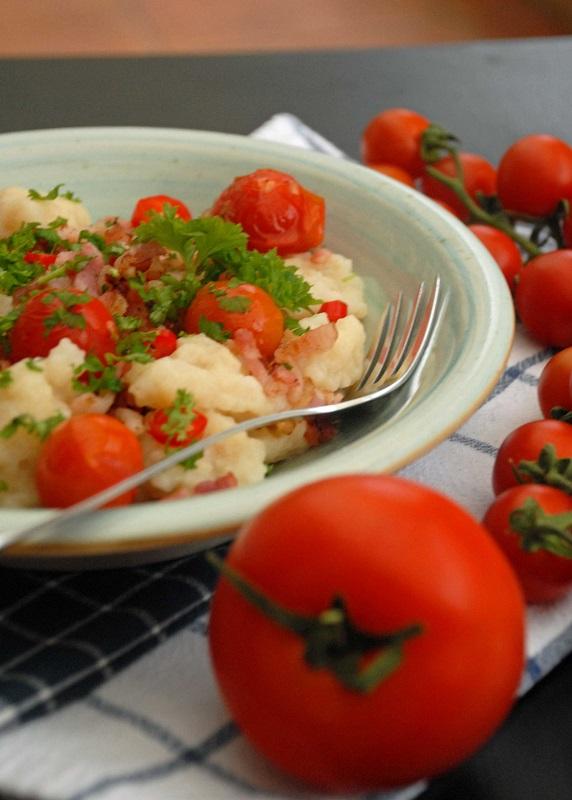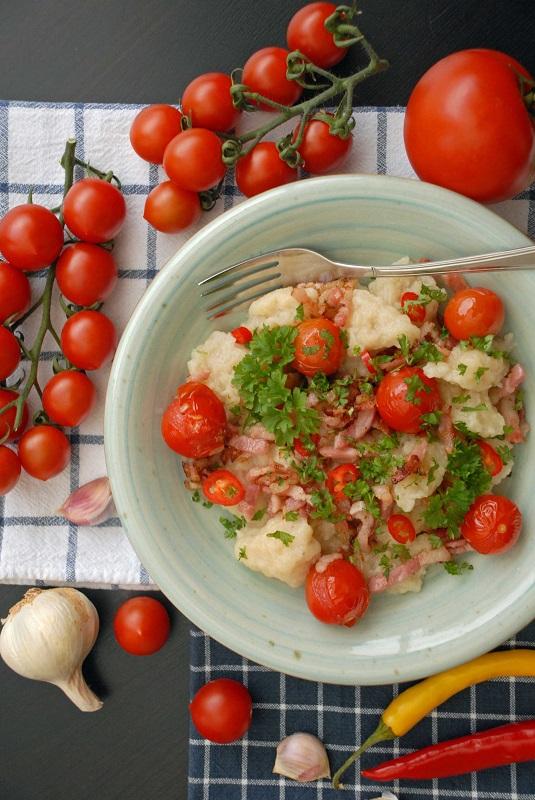 Try also:
Sicilian pasta with pistachios
A dinner full of memories – cheese dumplings with strawberries
Potato crumpets