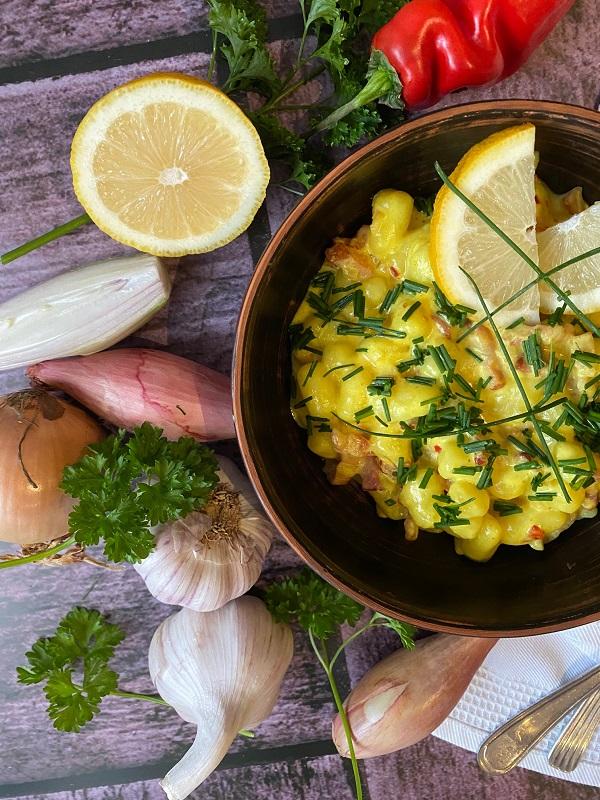 Lately we have been adding lots of noodles and pasta to our dishes. We all like it, so the range of lunch options is huge. Today I have a variation of Polish gnocchi. In Italy I ate them many times with delicious homemade tomato sauce. And basil, a bit of olive oil and Italian sun... I can't wait for another holiday. Round, delicate noodles, sometimes with channels in which the sauce stays; they look amazing and taste even better. Only common sense stops us from having another helping. And you? Could you resist this dish? For sure I will prepare it again soon. I will tell you in secret that if you don't have time to prepare your own gnocchi, use ready made ones. They are really good.

Ingredients
gnocchi
1 kg of potatoes
130g of flour
1 egg
salt
sauce
1 clove of garlic
1 small shallot
100g of smoked bacon
200ml of 30% sweet cream
a pinch of saffron
salt and pepper
2 tablespoons of chopped chives

Make the sauce first. Dice the garlic and shallot. Cube the smoked bacon. Put the bacon into a cold pan and fry it on a medium heat until you make some fat. Add the shallot and garlic and fry them for a while. Add the sweet cream and boil until the sauce is a bit thicker. Spice the sauce up with salt and pepper. Add the saffron and stir.
Wash the potatoes and boil them in salty water. Drain and cool them down. Peel the potatoes and crush them with a potato ricer. Add the rest of the ingredients and knead the dough. Pull off a piece of the dough, make a thin roll and cut out small gnocchi. You can make small balls and use a fork to make grooves in them. Cook the gnocchi in salty water on a medium heat for 1-2 minutes, depending on the size of the gnocchi.
Strain the cooked gnocchi and put them into the hot sauce immediately. Mix them in gently. Serve at once. Sprinkle with the chopped chives before serving.

Enjoy your meal!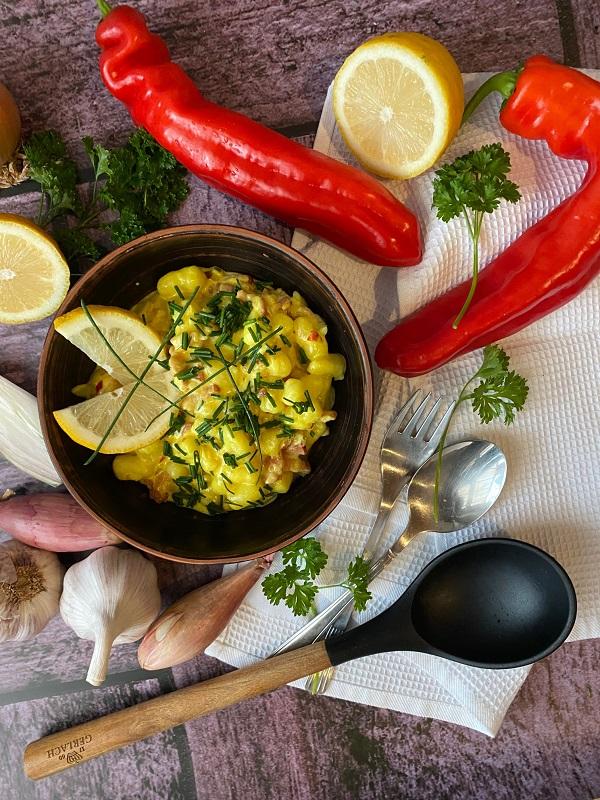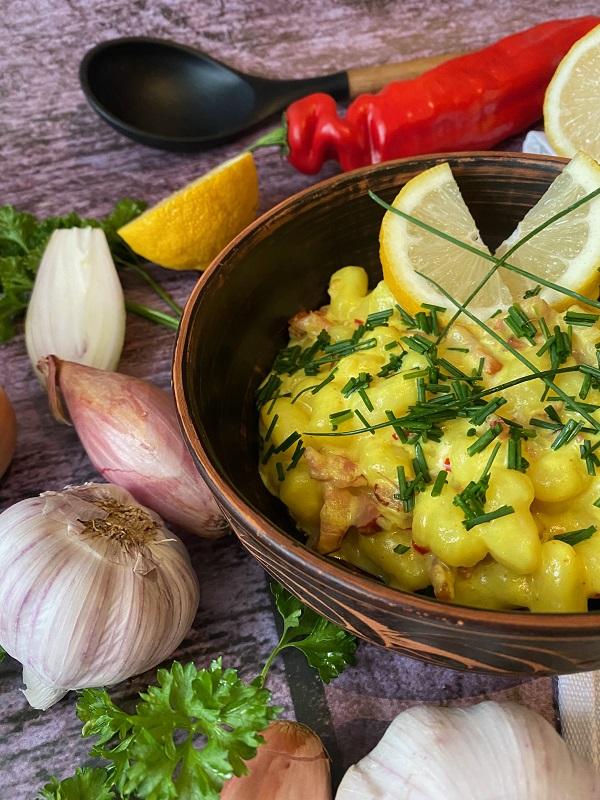 Try also:
A dinner full of memories – cheese dumplings with strawberries
Millet groats dumplings with spicy tomato sauce
Pumpkin-potato dumplings