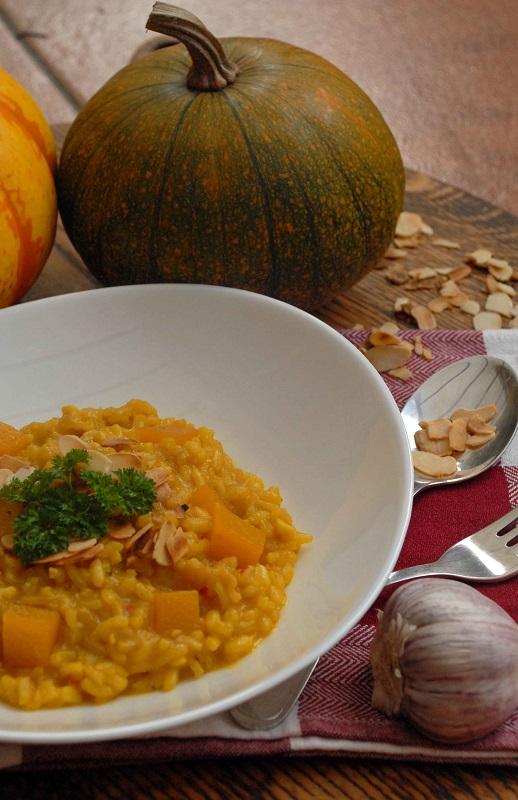 A few weeks ago we visited the Pumpkin Farm near Warsaw. It was a beautiful trip: the sunny weather and the many kinds of colourful pumpkins invited us to look at them, take photos and buy them. It was a very nice time. We got back with a couple of colourful pumpkins which for a few days decorated our balcony. Slowly but surely, I used up my pumpkin supply preparing soups, salads and muffins. Of course, I also had to have my favourite risotto with pumpkin. I added a bit of curcuma to make the colour of the dish stronger. We had a real autumn dish on our plates.

Ingredients (for 4 people):
200 g of arborio rice
1l of vegetarian bouillon
1 big onion
2 cloves of garlic
1.5kg of pumpkin (before peeling)
half a teaspoon of curcuma
200ml of dry white wine
3 tablespoons of butter
3 tablespoons of parmesan
3 tablespoons of almond flakes

Cut the pumpkin into smaller pieces and roast in the oven (heated to 180C) until it is almost soft (I roasted it for about 25 minutes). Peel 2/3 of the pumpkin and blend it thoroughly with the vegetarian bouillon. Peel the rest of the pumpkin and cube it.
Dice the onion and garlic. Melt one tablespoon of butter in a saucepan with a heavy bottom and fry the vegetables. Add the rice and curcuma and fry until the seeds are glazy. Pour in the wine and boil until the wine evaporates. Add half a glass of the pumpkin bouillon and boil the rice. Wait until the rice soaks up the portion of the bouillon before you pour in the next one. Boil the risotto for 15-18 minutes, topping up with the bouillon. Add the cubed pumpkin before finishing off the cooking. Turn off the heat, wait a while and add the rest of the butter, 3 tablespoons of the parmesan and mix it in. If necessary, spice up the risotto with salt and pepper. Sprinkle with the parmesan and roasted almond flakes before serving.

Enjoy your meal!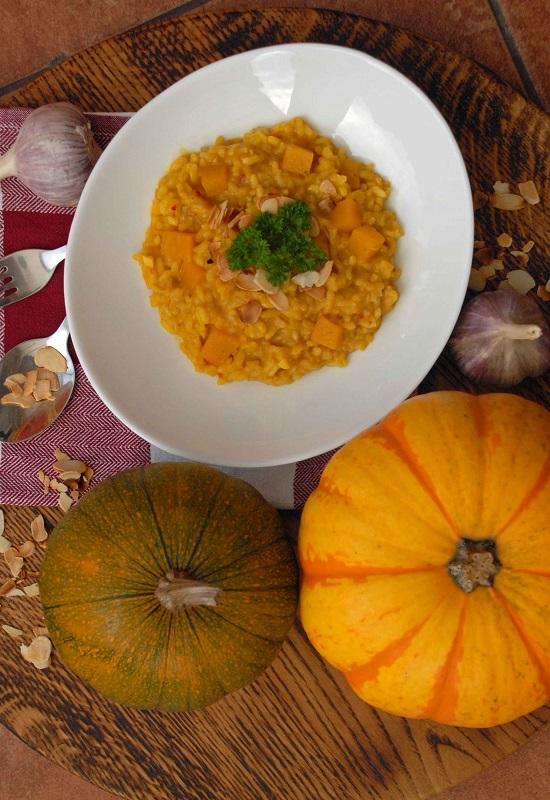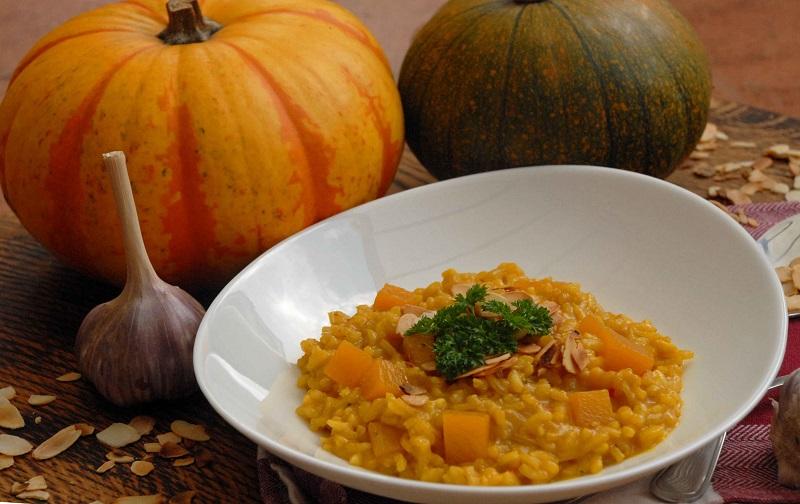 Try also:
Lemon-peppermint risotto with salmon
Tomato risotto – a dinner which even my son will eat without fuss
Asparagus risotto – one serving is too little