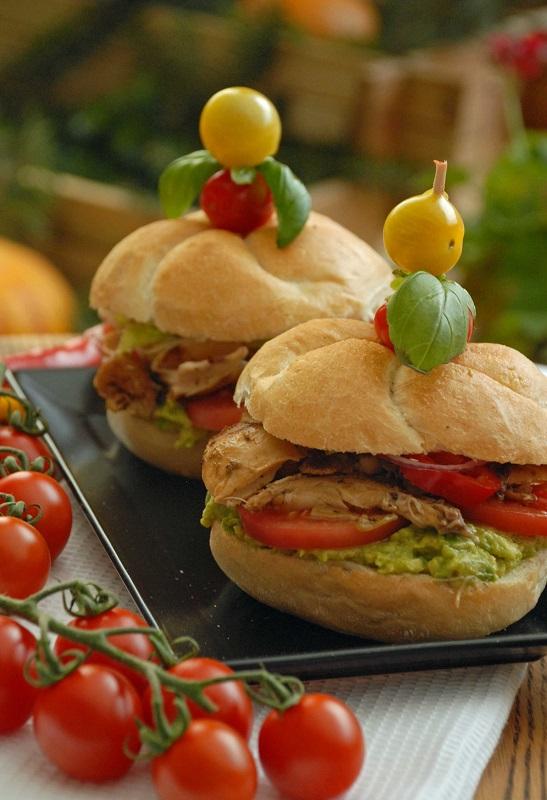 Roasted or potted meat is excellent - both just after cooking and cold or reheated the next day. Sometimes I like to prepare a satisfying lunch sandwich with such meat. It is great with many fresh additions. You can eat it at home, pack it for travel or for work.

When I was a child I liked sandwiches with fried pork chop. Today I used potted rabbit, stewed the day before. The rosemary-fragrant meat, slightly spicy guacamole and fresh bread was an excellent combination.

Ingredients (for 2 people)
2 portions of potted rabbit
1 avocado
1 tablespoon of lemon juice
1 clove of garlic
4 lettuce leaves
1 tomato
1 red pepper
salt and pepper

Remove the bones from the meat and cut it into smaller pieces. Slice the tomato and pepper. Crush the garlic and chop the chili pepper. Crush the avocado with a fork. Add the lemon juice, garlic, chili pepper, and spice them up with salt and pepper and mix them in. Cut the bun into halves. Put the guacamole, tomato slices, meat, lettuce and pepper onto it. Cover with the second part of the bun.

Enjoy your meal!

Try also:
Home-made hot-dogs
"Hambukses" - my children's new favourite meal
My fisherman's burger