Probably like most Poles I do shopping in Ikea. I like the Scandinavian practicality of their solutions, especially for small flats, as well as the different systems of storing things. I don't go to Ikea "for a walk", but for a specific reason. However, I always go to the restaurant for meatballs. We all love them, so when I found a cookery book with a recipe for these treats I decided to make the dish in my kitchen. I served them with bulgur and home-made cranberry confiture. It was excellent. I recommend it!

Ingredients:
500g of minced meat
1 onion
2 cloves of garlic
3-4 tablespoons of breadcrumbs
1 egg
2 pinches of nutmeg
500 ml of bouillon
2-3 tablespoons of flour
2 tablespoons of oil
2 tablespoons of French mustard
2 tablespoons of soya sauce
200ml of 30% sweet cream
salt and pepper
cranberry sauce
2 fistfuls of fresh cranberries
4 tablespoons of maple syrup
2 tablespoons of orange peel
50 ml of orange juice
1 twig of rosemary

Dice the onion and garlic. Put the meat, breadcrumbs, onion, garlic, egg, nutmeg, salt and pepper into a bowl. Mix them together. Form small balls with the mixture, cover with the flour and fry in oil. Add the bouillon and boil on a low heat for 20-25 minutes. Take the meatballs from the pan. Add the French mustard, soya sauce and sweet cream to the pan. Spice it up with salt and pepper and boil until the sauce is properly thick. Put the meatballs into the sauce.
Wash the cranberries. Put them into a pot with the rest of the ingredients and boil until the cranberries are soft and the juice is a bit thicker. Remove the rosemary.

Enjoy your meal!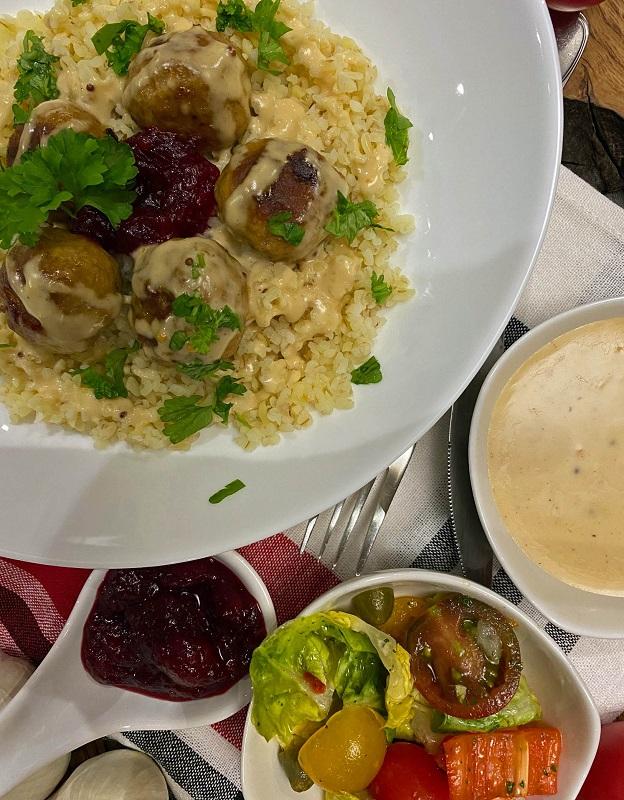 Try also:
Spaghetti with meatballs, the dinner which every child likes
Fish frikadelles with spinach and chickpeas.
Making something out of nothing, i.e. small balls with courgette