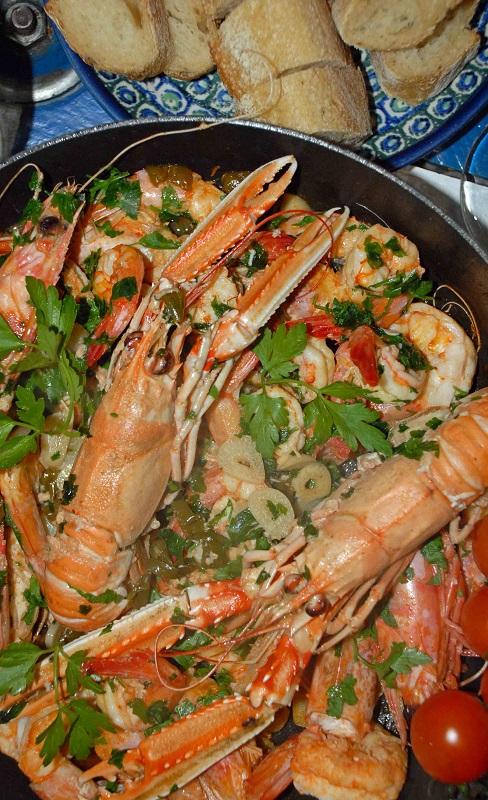 Shrimps, langoustine, lobster and mussels are our favourite ingredients of dishes. In Poland we buy them frozen. During the last long weekend in May we visited Valencia. This beautiful city, the third biggest in Spain, is situated on the Mediterranean coast, so we could easily buy fresh fish and seafood. If you want to buy fresh fish and seafood, you should look for big markets instead of small shops. We visited such a market every day in Valencia. We were enchanted with the friendly atmosphere. The salespeople already greeted us with a cheery "hola!" on the second day. When I asked a lady for an easy Spanish way of preparing seafood, she said "the easiest is with white wine , olive oil, garlic and parsley".

We decided to take advantage of the opportunity presented by a seaside city. We bought a lot of shrimps, langoustines, white wine, garlic, parsley and chili pepper and played at cooking. For our children we shelled the shrimps, leaving only the heads and tails. It was a lot of work, but the prospect of the yummy food and nice wine sugared the pill. We served the seafood with a fresh, crunchy baguette. It was excellent for mopping up the yummy sauce in the pan.

Ingredients:
1.5kg of seafood
300ml of dry white wine
4 cloves of garlic
a bunch of parsley
1 chili pepper
3 tablespoons of olive oil

Chop the parsley, and slice the garlic. Shell the seafood, remove the digestive tracts by cutting open the spines and removing the long dark threads. Heat the olive oil in a pan. Add the garlic and chili pepper. Fry for a while. Add the wine and allow it to evaporate slightly. Add the seafood and boil for 3-5 minutes. Sprinkle with the chopped parsley. Serve with a fresh baguette.

Enjoy your meal!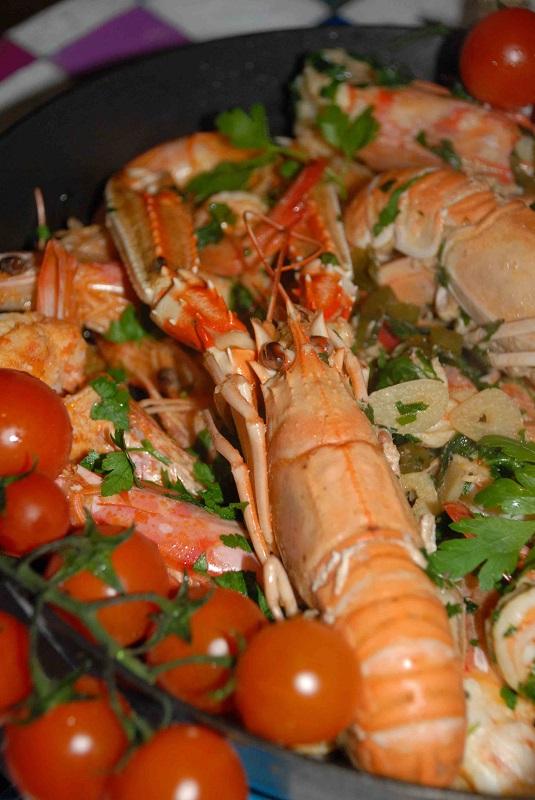 Try also:
Phenomenal salmon with currant sauce
Red snapper from the oven – a light and elegant dinner in half an hour
Spaghetti with shrimps