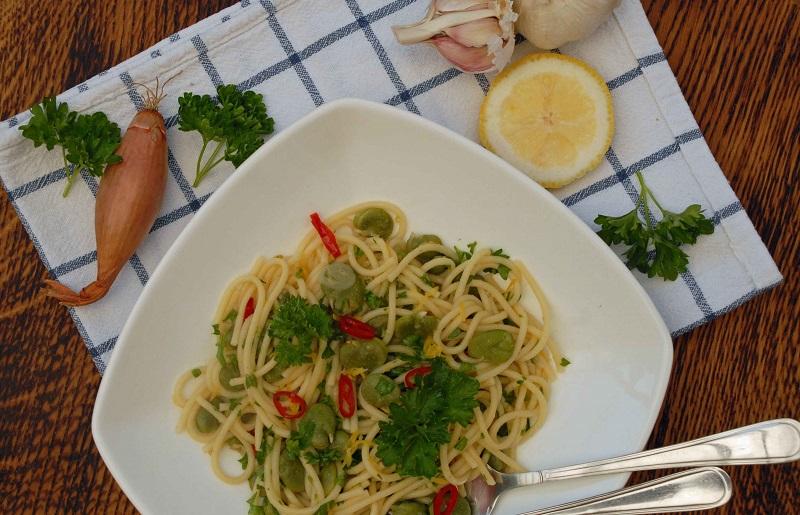 I have a suspicion that in the summer time my daughter could eat only broad beans and fruit. Maybe sometimes she would eat pork chops or pasta, but the basis of her diet is clearly defined. As a special request I prepared a dish which contains two beloved ingredients: spaghetti and broad beans. For me this combination was risky, but the dish turned out really delicious. It shows, according to my daughter's theory, that to spaghetti we can add practically anything. With a bit of luck and seasoning, it will be an amazing dish on the plate.

Ingredients:
100g of spaghetti
200g of broad beans
2 cloves of garlic
half a small onion
small chili pepper
2 tablespoons of lemon peel
1 tablespoon of lemon juice
2 tablespoons of butter
2 tablespoons of chopped parsley
salt and pepper

Boil the broad beans in salty water. Drain and peel them.
Boil the spaghetti al dente.
Slice the onion, chili pepper and garlic. Melt the butter in a pan and lightly fry the vegetables. Add the spaghetti, a bit of water from the boiling spaghetti and stir. Turn off the heat, add the parsley, lemon peel and lemon juice. Spice it up with salt and pepper. Stir again. If you like, sprinkle the dish with some parmesan before serving.

Enjoy your meal!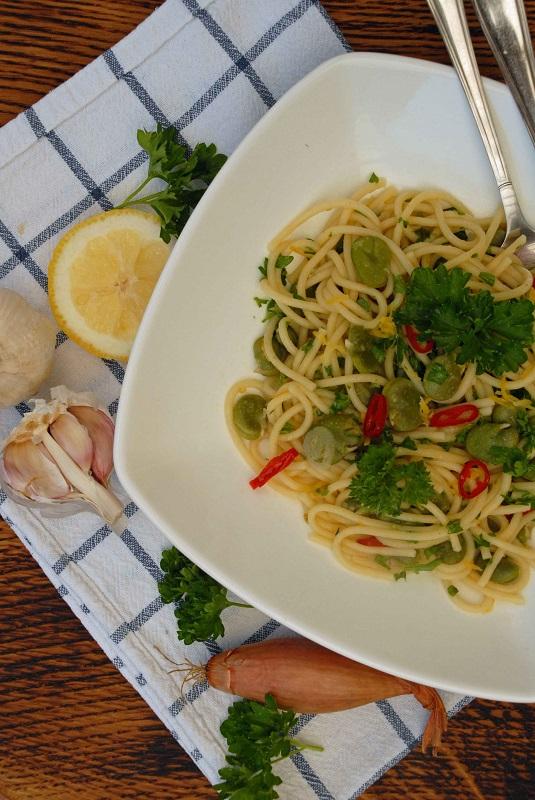 Try also:
Spring on a plate with asparagus spears in lemon sauce
Spaghetti alla puttanesca
Sicilian pasta with pistachios