One day after making stuffed cabbage, I had some leftover cabbage. Because I don't like to throw food away I prepared a small portion of stewed cabbage with tomatoes. It was so delicious that the next day I went to the store and I bought another cabbage, so I could make another portion of this dish, this time in the right amount. Stewed savoy cabbage with tomatoes is a dinner dish for me. I serve it with crunchy bread. If I prepare it for lunch, it is best with fresh new potatoes with dill. Choose your favourite sides or eat the cabbage straight from the pot. This is the way my husband likes it the most.

Ingredients:
1 savoy cabbage
1 onion
2 cloves of garlic
150g of smoked bacon
250g of sausages
1l of vegetable bouillon
2-3 tablespoons of tomato concentrate
1 bay leaf
2 allspices
salt and pepper

Chop the cabbage. Put it into a pot, pour in the bouillon, add the bay leaf, allspices and boil on a low heat.
Cube the smoked bacon. Put it in a cold pan and fry until there is fat in the pan. Add the diced onion and garlic. Fry for a while. Add the cubed sausages and fry on a medium heat for 7-10 minutes. Add everything from the pan to the pot with the cabbage and boil until the cabbage is soft. Add the tomato concentrate, spice it up with salt and pepper and stir.

Enjoy your meal!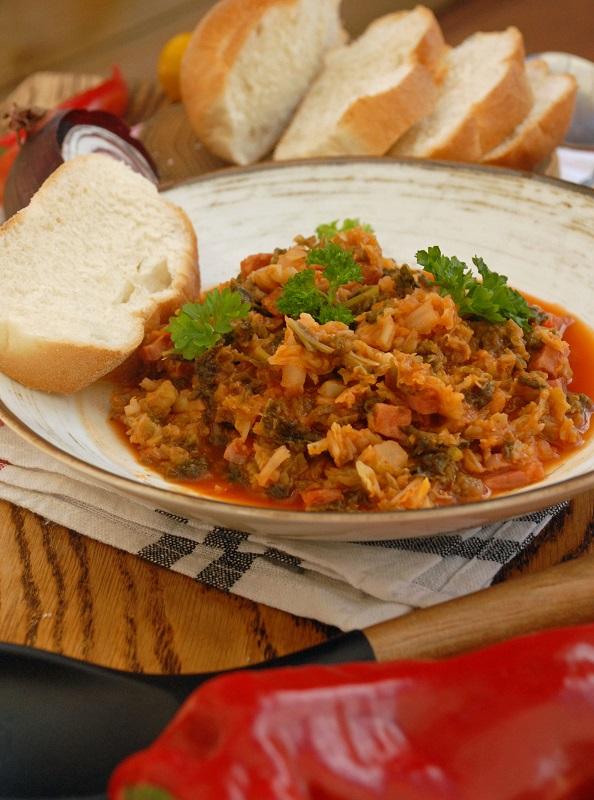 Try also:
Proverbial "peas with cabbage" – what can you add to fish?
Traditional stuffed cabbage.
Stuffed cabbage soup – yummy one-pot soup.