For many years, along with the most popular salmon, one of our favourite fish is zander. Most often we eat it in Kamień Pomorski in a friendly fish and chip shop which serves yummy fried fish, excellent smoked fish specials and fresh salads.

In Warsaw we sometimes buy fresh zander, which is great for a swift Sunday dinner. I would like to share with you the recipe for zander with potato purée and fresh fruit salsa. Come to think of it, it is difficult to give just one recipe for fruit salsa. You can make it with your favourite fruit. You need to play by a few rules: the salsa should be at the same time a bit sweet, spicy, sour and crunchy. Try to make your own combination or use my recipe.

Ingredients (for 2 people)
2 filets of zander
2 tablespoons of clarified butter
3 tablespoons of flour
salt
purée:
500g of potato
2 tablespoons of butter
50ml of milk
salt
salsa:
2 fresh cucumbers
6 strawberries
a quarter of a red onion
a half a chili pepper
2 tablespoons of lemon juice
2 tablespoons of maple syrup
1 tablespoon of olive oil

Wash the cucumber, remove the cores and cube the rest. Cube the strawberries. Chop the Garlic and chili pepper. Mix the olive oil, lemon juice and maple syrup. Mix in the cucumber, strawberries, onion and chili pepper. Add the sauce and mix it in.
Peel the potatoes and boil them in salty water. Drain them. Add the butter and warm milk to the hot potatoes. Mash them thoroughly to make a smooth purée.
Cut the zander into smaller pieces. Spice them up with salt and dredge in the flour. Melt the butter in a pan and fry the zander until the pieces are golden.
Serve the fried fish with the purée and fruit salsa. Decorate with some leaves of your favourite herbs.

Enjoy your meal!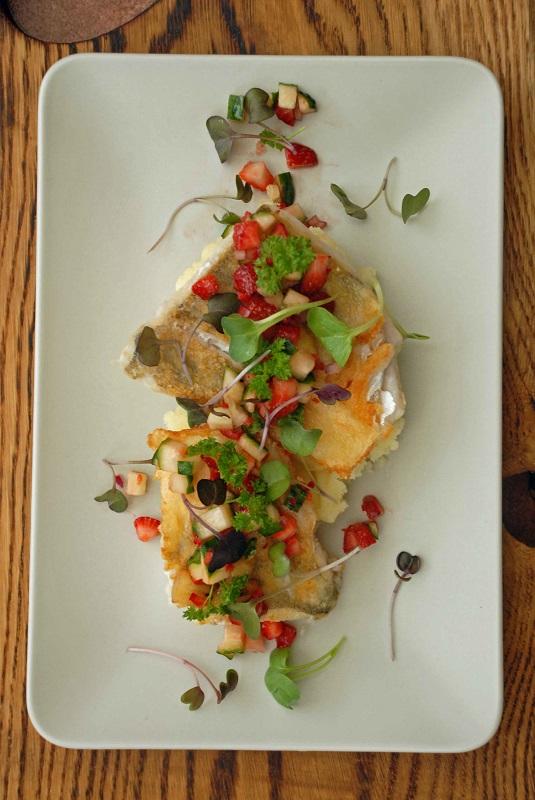 Try also:
Lemon-peppermint risotto with salmon
Yummy and healthy – salmon with cranberries and pearl barley with kale
Fish frikadelles with spinach and chickpeas.