This is not the first time I've said that I like to give culinary pleasure to my relatives. My daughter says that her sides are becoming dangerously round, but she can't say no to my delicacies. Round sides are a joke, because she trains so intensively there is no danger of this. The easiest way to give my son pleasure is make any type of pancakes. So I don't make always the same kind, I play and experiment with the ingredients, adding new bonuses and fruit. It pleases me all the more that my son eats them in industrial quantities.

Today I made delicious lemon-poppy seed pancakes. They were perfect with maple syrup and fresh fruit. I recommend them.

Ingredients:
200g of kefir
2 eggs
150g of flour
1 teaspoon of baking powder
half a teaspoon of baking soda
2 tablespoons of brown sugar
2-3 tablespoons of lemon juice
2 tablespoons of poppy seeds
1 tablespoon of lemon zest
2 tablespoons of oil

Mix the kefir with the eggs. Add the sieved flour, baking powder, baking soda, sugar, poppy seeds and oil. Mix them in. Add the lemon juice and lemon zest and stir again. Fry on a low heat until golden. When small holes appear on top of the pancakes, it is a sign that you should turn them over. Serve at once with fruit and richly doused with maple syrup.

Enjoy your meal!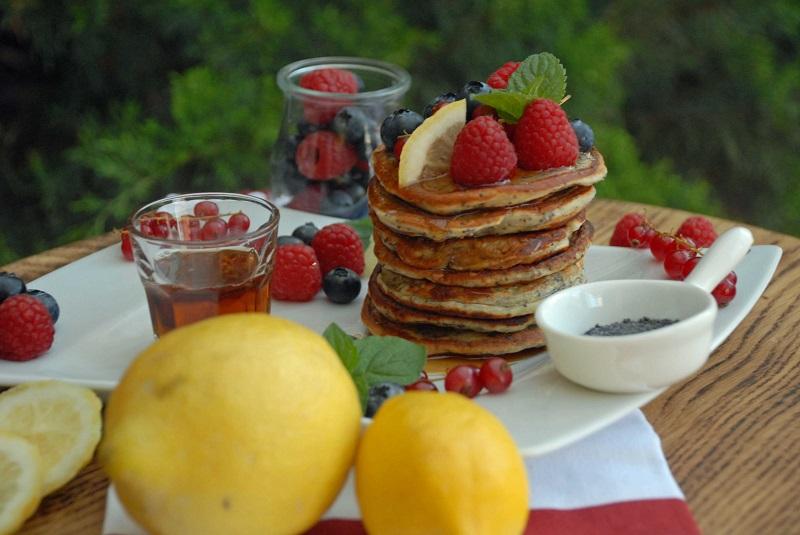 Try also:
Perfect yoghurt pancakes with apples
Pancakes with banana and chocolate – my son's sweet afternoon tea
Granary pancakes with bilberry mousse