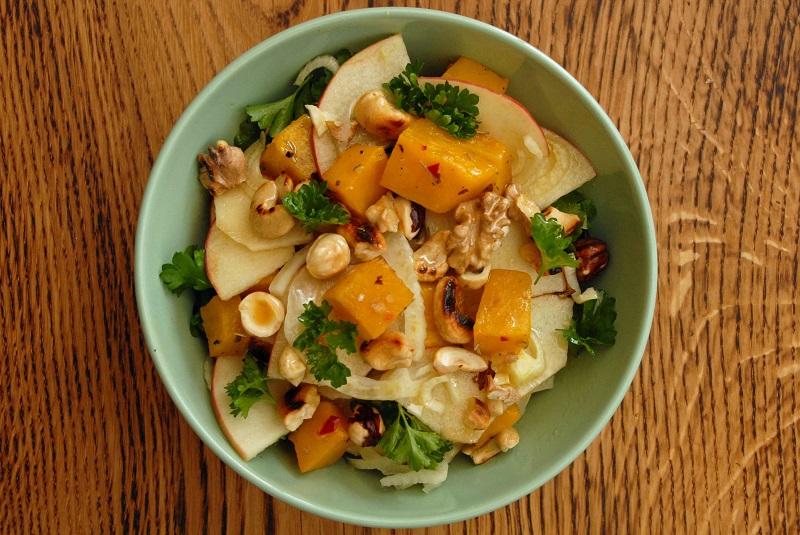 Each of us has their own favourite types of apples. Some like them tender and sweet and some like apples which are hard to bite into. To this day I remember the taste of the apples which grew in our garden. Many of these old types aren't there anymore. Now there are new ones, but I remember with affection the September packed lunch when I got a sandwich with a crunchy roll and a garden-fresh apple.

We like hard juicy and sweet apples. Such apples are excellent for the salad which I would like to recommend today. The recipe for this dish comes from the monthly "Moje gotowanie" ("My cooking").

Ingredients (for 2 people)
half a butternut pumpkin
4 tablespoons of olive oil
1 tablespoon of chopped chili pepper
1 tablespoon of rosemary
2 apples
1 fennel
2 fistfuls of mixed nuts
4 tablespoons of chopped parsley
3 tablespoons of lemon juice
salt and pepper

Heat the oven up to 190C. Notch the pumpkin so it has a checked pattern. Sprinkle with 2 tablespoons of olive oil, spice it up with the rosemary, chili pepper, and salt and pepper. Bake for 45 minutes until the pumpkin is soft.
Wash the apples, remove the cores and slice finely. Slice the cleaned fennel. Roast the nuts and chop them.
Peel the baked pumpkin and cube it. Mix together the pumpkin, fennel, apples, nuts and parsley in a bowl. Mix the lemon juice with the rest of the olive oil and sprinkle the salad with it. Serve at once.

Enjoy your meal!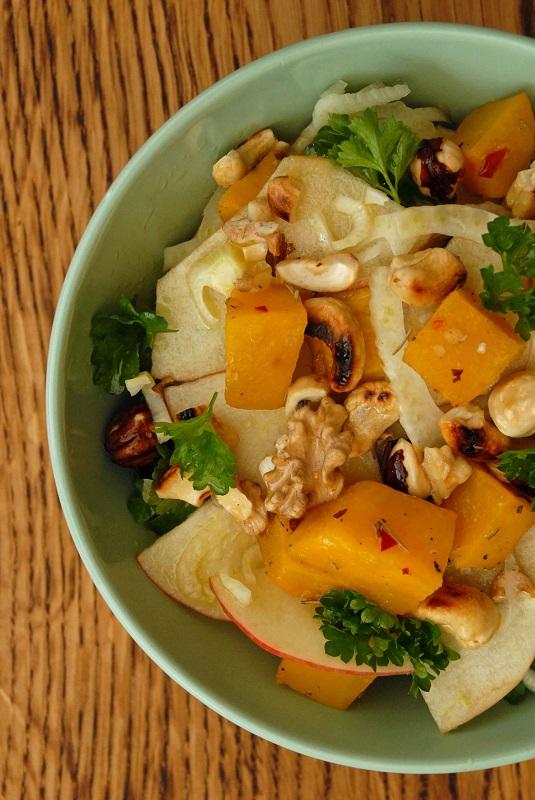 Try also
Salad with roasted beetroots and goat cheese.
Autumn salad with pumpkin, quinoa and pomegranate
A pumpkin once again