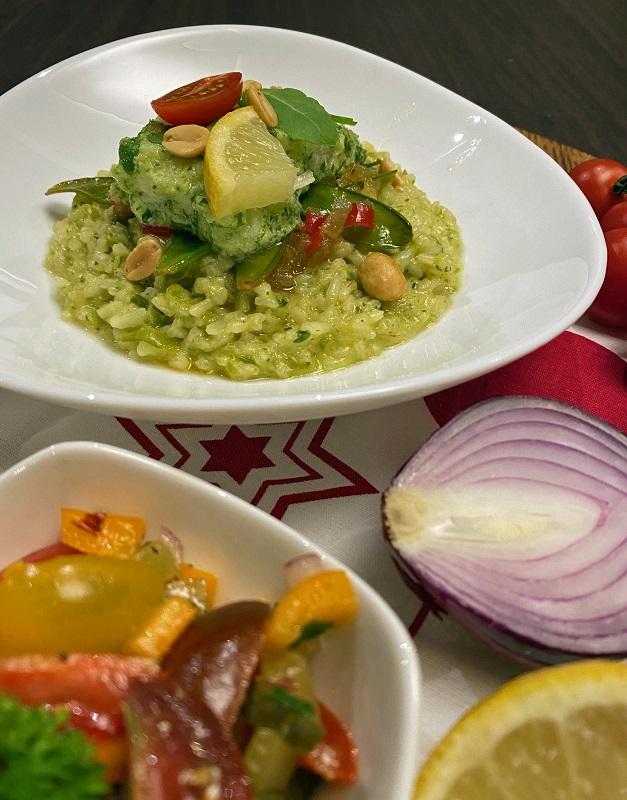 Today I would like to share with you a recipe for a light and incredibly delicious dinner. The mixture of fish and my beloved risotto was a perfect bullseye, and it opened up new possibilities in creating more delicious combinations. Because the hardest thing is to have an idea. My idea today comes from Termomix's culinary book, but you don't need it (although I highly recommend it), because the recipe is easy and you can prepare it in traditional pots and pans. I recommend it.

Ingredients:
4 fillets of cod
lemon pepper
lemon
2 tablespoons of parmesan
pesto
50g of rocket
50g of parmesan
2 cloves of garlic
50g of sunflower seeds
100ml of olive oil
a pinch of salt
risotto
1 shallot
1 clove of garlic
a piece of chili pepper
300g of arborio rice
750 ml of vegetable bouillon
200ml of dry white wine
2 tablespoons of butter
2 tablespoons of parmesan

Spice the fish with some lemon pepper. Prepare the pesto. Roast the sunflower seeds in a dry pan. Blend all the ingredients of the pesto. Add salt and pepper if necessary. Cut the pesto into halves. Spread the fish pieces with one of them and leave in the fridge.
Melt one tablespoon of butter in a saucepan with a heavy bottom and fry the chopped shallot, chili pepper and garlic in it. Add the rice and fry until the seeds are glazy. Pour in the wine and boil until the wine evaporates. Add half a glass of the bouillon and boil the rice. Wait until the rice soaks up the portion of the bouillon before you pour in the next one. Boil the risotto for 15-18 minutes, topping up with the bouillon. Add the rest of the pesto just before you finish boiling and mix it in. Turn off the heat, wait a while and add the rest of the butter, parmesan and mix it in. If necessary, spice up the risotto with salt and pepper.
Fry the fish in a pan covered with some baking paper or steam them. Arrange the risotto on a plate. Put the fish on it. Sprinkle with some lemon juice and parmesan before serving.

Enjoy your meal!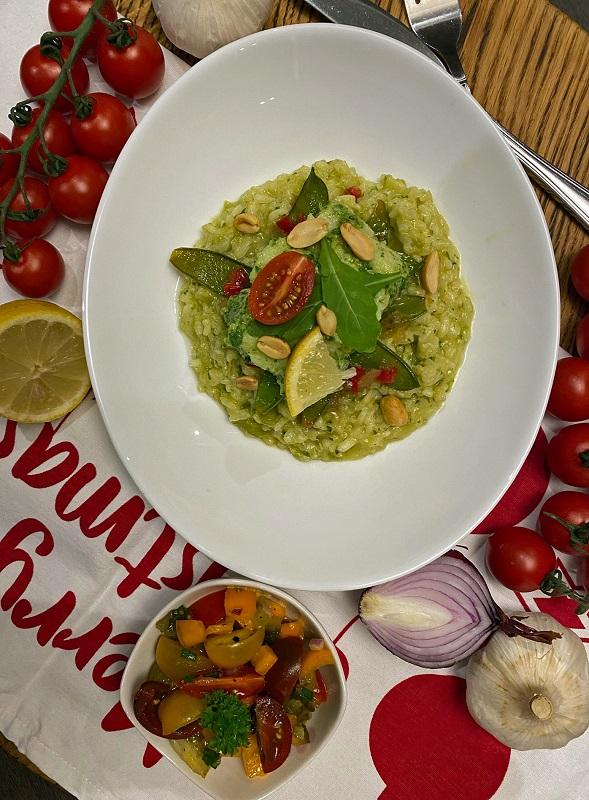 Try also:
Lemon-peppermint risotto with salmon
Rainbow trout with mustard sauce, courgette and pot barley
Red snapper from the oven – a light and elegant dinner in half an hour