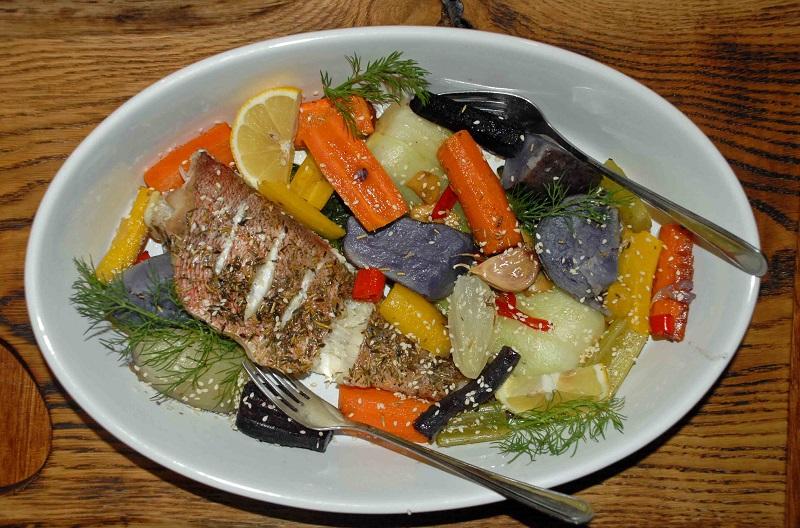 The rosefish is a predatory fish. It lives in the cold water of the north seas and in the Atlantic. Its meat has a small amount of fat and cholesterol. Until recently I had eaten only smoked rosefish. I like its white and quite dense meat. This time I bought fresh fish and decided to roast them in the oven.

The mild meat of the rosefish is excellent with grilled or roasted vegetables. I roasted them with potatoes and carrots. The next time I will serve them with salsa or a spicy, fruity sauce.

Ingredients:
4 rosefish
4 potatoes
4 carrots
1 stick of celery
2 pak chois
1 onion
2 cloves of garlic
1 chili pepper
3 tablespoons of olive oil
2 tablespoons of maple syrup
1 tablespoon of soy sauce
2 tablespoons of lemon juice
1 teaspoon of thyme
1 teaspoon rosemary
4 teaspoons of butter
4 twigs of dill
salt and pepper

Heat the oven up to 180C. Cover a baking sheet with some baking paper.
Clean the rosefish and remove the skin. Spice the fish up with salt and pepper. Put some butter and a sprig of dill inside each fish. Put the rest of the butter on the fish. Mix the olive oil, soy sauce, maple syrup, lemon juice, chopped chili pepper, crushed garlic, thyme and rosemary in a small bowl. Wash the potatoes and boil them in salty water for 15 minutes. Drain them and cut them into quarters. Peel the carrots. Cut the celery and carrots into 2-3cm pieces. Cut the pak choi into halves. Cut the onion into small pieces. Put the vegetables into a larger bowl. Add the sauce and mix it in. Put the fish and vegetables onto the baking sheet. Cover with some aluminium foil and bake for 40 minutes.

Enjoy your meal!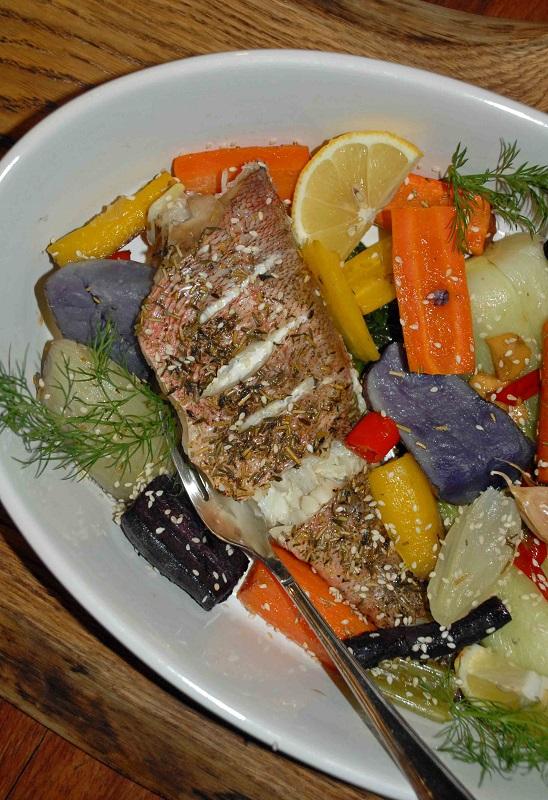 Try also:
Red snapper from the oven – a light and elegant dinner in half an hour
Fish frikadelles with spinach and chickpeas.
Salsa for salmon, or the devil is in the detail