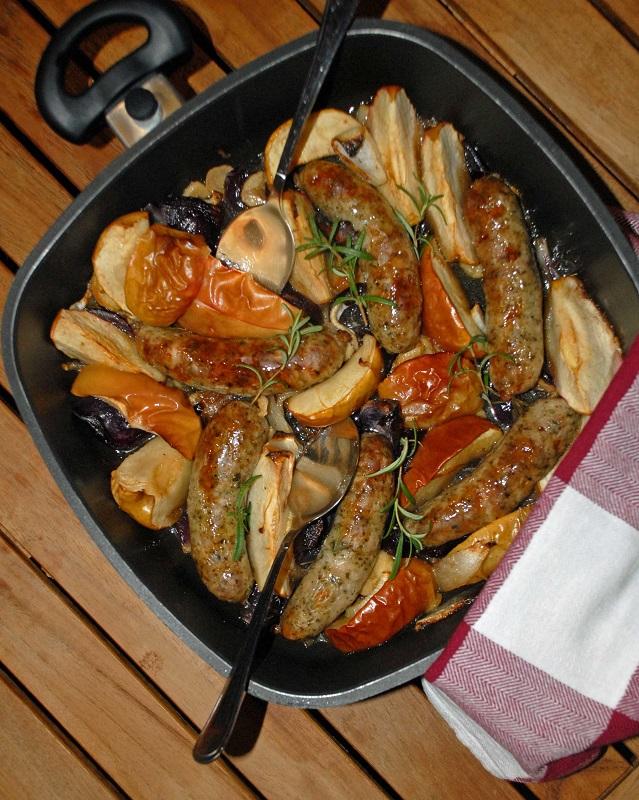 I usually serve roast white sausages at Easter. Recently in the newspapers and on TV I have seen so many dishes with white sausages that I got into the mood to prepare some dishes with them. I decided to do some according to Jamie Oliver's recipe. Jamie Oliver roasts white sausages with apples, onion and slices of parsnip. I don't like parsnip, so I added thin slices of fennel instead.

Fennel isn't a popular vegetable because of the strong anise aroma. If you don't like it, boil, fry or roast the fennel. You can make a dish with a subtle hint of anise and the result will be sweet, crunchy vegetables. Maybe you will grow to like this vegetable, which is very rich in folic acid, vitamin A, calcium and potassium.

Ingredients (for 4 people)
8 white sausages
4 apples
2 red onions
1 small fennel
1 tablespoon of honey
3 twigs of rosemary
2 tablespoons of olive oil
1 tablespoon of wine vinegar
salt and pepper

Heat the oven up to 180C.
Peel the onion and cut into quarters and separate into pieces. Cut the apples into quarters and remove the cores. Slice the fennel. Heat a pan and fry the onion without fat. Add the olive oil apples and fennel. Spice them up with salt, pepper and wine vinegar. Fry for 2-3 minutes, stirring from time to time. Arrange the white sausages and twigs of rosemary between the vegetables and apples. Roast for 30 minutes. Take the pan out of the oven, sprinkle with the honey and roast for 5 minutes.

Enjoy your meal!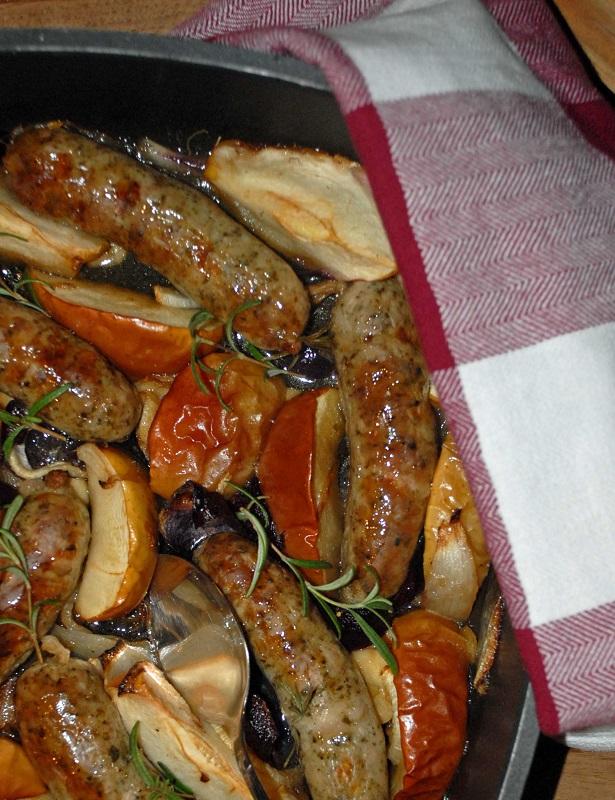 Try also:
Shish kebabs with white sausages
Memories from Spain – chorizo with chickpeas
Toad in the hole