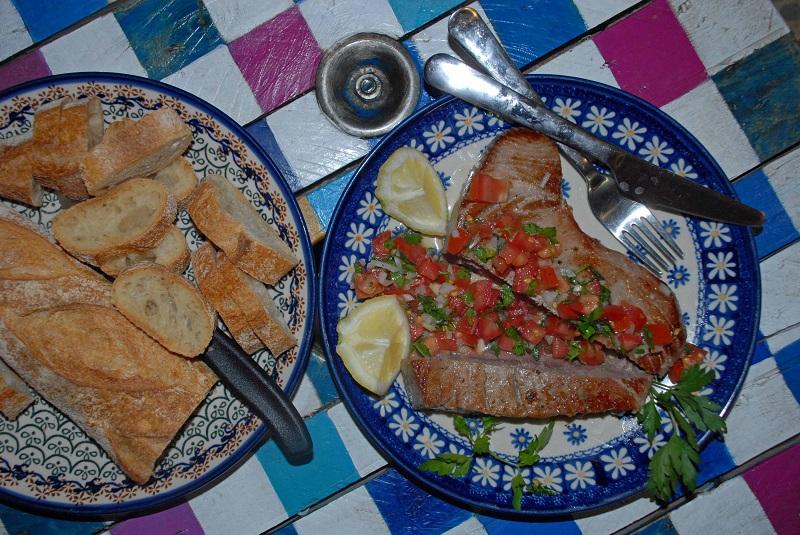 With difficulty I saved a piece of tuna steak to take a photo for this blog. If I hadn't been stubborn, my husband probably would have eaten it straight from the pan. He fried it, cut and ate, fried, cut and ate. Actually, I didn't blame him. The fish was simply excellent. When my children saw it, they said that it must be brontosaurus steak. The name was accepted, and to this day my children call every big piece of meat the same.

Mexican pico de gallo is a tomato salsa. You can add coriander, peppermint or simply parsley. It is easy to prepare, I always have the ingredients in my kitchen and the flavour is great for fish dishes. I recommend it also for meat steak, cottage cheese and nachos. It is very versatile, isn't it?

Ingredients:
tuna steak
salt and pepper
2 tablespoons of olive oil
pico de gallo
3 tomatoes
3 tablespoons of chopped parsley
2 tablespoons of diced onion
1 clove of garlic
chili pepper
2 tablespoons of olive oil
1 tablespoon of maple syrup
2 tablespoons of lemon juice
salt and pepper

Wash the tomatoes, cut them into quarters and remove the cores. Cube them. Crush the garlic, and dice the chili pepper. Mix the tomatoes with the chili pepper, onion and garlic. Add the chopped parsley, lemon juice, maple syrup and olive oil. Spice it up with salt and pepper. Mix them in. Leave for 10 minutes.
Clean, dry the tuna and spice it up with pepper. Leave for 10 minutes. Heat the olive oil in a pan and fry the tuna. The time depends on how well done the steak should be. If you want it rare, fry for 1 minute on both sides; medium rare fry for 2 minutes. If your steak is 2cm thick you shouldn't fry it for longer than for 3 minutes on both sides. You don't want to prepare a car tyre but a juicy, yummy fish. Spice it up with salt before serving. Serve with pico de gallo.

Enjoy your meal!

Try also:
Phenomenal salmon with currant sauce
Seafood in the Spanish style
Red snapper from the oven – a light and elegant dinner in half an hour