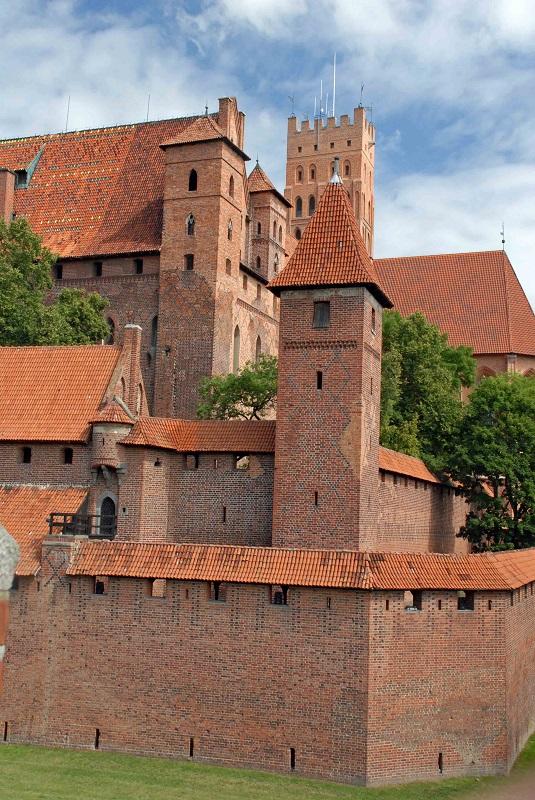 In Poland and in the world there are places which we should see even if only once in our life. Some of them, to my regret, are unavailable because they are dangerous. Fortunately, we can show at least some of them to our children. One place which everybody should see in Poland is Malbork Castle.

This castle, which is the biggest in the world in terms of area, is placed on the banks of the river Nogat and is very impressive. It has been built in phases since 1280 and has been passed from German hands to Polish hands many times. Eventually, after a pounding in 1945 by The Red Army, it was rebuilt and deemed a national monument. In 1997 it was added to the UNESCO World Heritage Site list.

Huge but interesting in terms of architecture, this bricky building is intriguing and encourages us to visit it. The features of the castle include: the Karwan Lower Castle, where train equipment, cannons and ammunition were kept; St Wawrzyniec Chapel and outbuildings; the glamorous Medium Castle, which was the political centre of authority and in which we can find St. Bartłomiej Chapel, the Great Refectory, the Grand Master Palace, and the Monastery of the Teutonic Knights, known as the High Castle.

Visiting the castle takes 3.5 hours and is conducted by an experienced guide or (for a fee) with an audio-guide. I don't know any child - even one who is very interested in medieval castles - who patiently follows his parents, listening about the historical and architectonic details of this wonderful castle.
more

»